Meatballs have never been my strong suit. I can make a decent meat sauce (what my family called "gravy" when I was growing up. That was before pasta became chic.) My lasagna has been well received. And although by eggplant parmigiana isn't as good as my father's, it can hold it's own.

But meatballs somehow always eluded me. I know what the ingredients should be -- or at least, what family members use -- chopped meat, eggs, bread or bread crumbs, parsley, maybe oregano, maybe grated cheese. I remember my mother would cut the crusts o
ff sliced white bread and soak the bread in water to add moisture to the mix. But whenever I tried, I never got the right proportion of bread and eggs to meat. The end result tasted more like round hamburgers than anything remotely like meatballs. So I never made them that often.
Recently, I decided it was time to learn how to make good meatballs. The ones in Rachel Ray's
Zuppa Osso Bucco
were good. I think they'd be pretty decent if browned and cooked in tomato sauce instead of the soup. Then I came across a recipe in
Food & Wine:
Jacques Pepin's
Meatballs and Tomato Sauce
.
I've enjoyed watching Jacques' cooking shows over the years. And I like what he had to say in the F&W article:
My goal was to make viewers realize that they can prepare wonderful dishes from staples and that leftovers can be thoroughly reimagined.
Although some of what's called for in this recipe -- flour, baking power, thyme -- is a little different from the ingredients I'm used to for meatballs, I decided to try it out, with a few adjustments. Since I didn't have leftover cooked meat, as suggested, nor a meat grinder, I used regular chopped meat, and chose turkey chopped meat. The mixture very wet after all the ingredients were added to the chopped meat. With 3 tbsps. of flour to 3 eggs, there wasn't much to bind everything together. So I added some dried bread crumbs, which worked well. I also left out the celery because I don't
care for it.

Following the recipe, I browned the meatballs and started the tomato sauce, finishinging with simmering the meatballs in the sauce.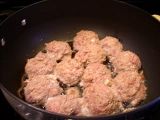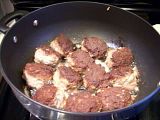 Although the photo of the meatballs in the sauce (above) looks like there's a layer of grease on top, don't let that turn you off. The photo is misleading because the lighting was off. The sauce was not greasy at all. I decided to serve the meatballs and sauce over pasta, so I skipped the addition of the olive mixture, which required boiling them in another pot. I like olives, but I had reached my pot quota for this meal. Finally, I nuked some frozen spinach and added it to the dish.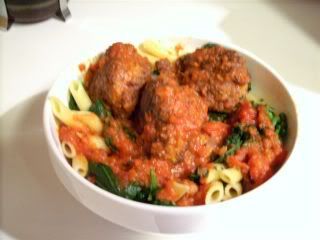 I was very pleased with the dish overall and would highly recommend it. The meatballs were firm on the outside and soft and moist on the inside. Very flavorful. The tomato sauce is a good quick sauce, not too thick or "saucy." I also froze some of the meatballs for future use.

Next time, I want to use a mixture of pork, veal and beef for the meatballs. This recipe is definitely being added to the Recipe Box.
Now, for my next culinary lesson, I'd like to learn how to make fresh pasta. Stay tuned.