Seaside Cottage: On Track



It's coming along swimmingly. (Of course, if it was a bricks-and-mortar cottage that wouldn't be a good thing.) The couple I'm making this for is getting married at the end of August. I'm not worried about getting it done in time because Elizabeth Designs stitch up so
quickly. The leaves on the trees will be satin stitches. There'll be a lighthouse (also done with satin stitches) on the right. Then a bit more on the sand, some flowers and it's done. Plenty of time to finish stitching and get it framed.




Bind-off Stand-off
I'm not happy with the progress
on the toe-up socks. On one hand (or should that be foot?), one sock is finished. On the other, I completely botched the bind-off. Referring to Nancy Bush's Simple Socks, I attempted a K2P2 bind-off. I knew I really wasn't getting it, but I kept going. Big mistake. When I was done, I couldn't get the sock pass
my toes. I painstakingly ripped the bind-off out. But I'm rather disgusted with the darn thing. I dropped a couple of stitches and in a moment of insanity, I cut the yarn. I'm not sure I have a long enough tail to try again. (Actually, I'm positive I don't have enough). It should be okay if I rip out a couple of rows. I'll have a shorter leg, but at least it'll be done.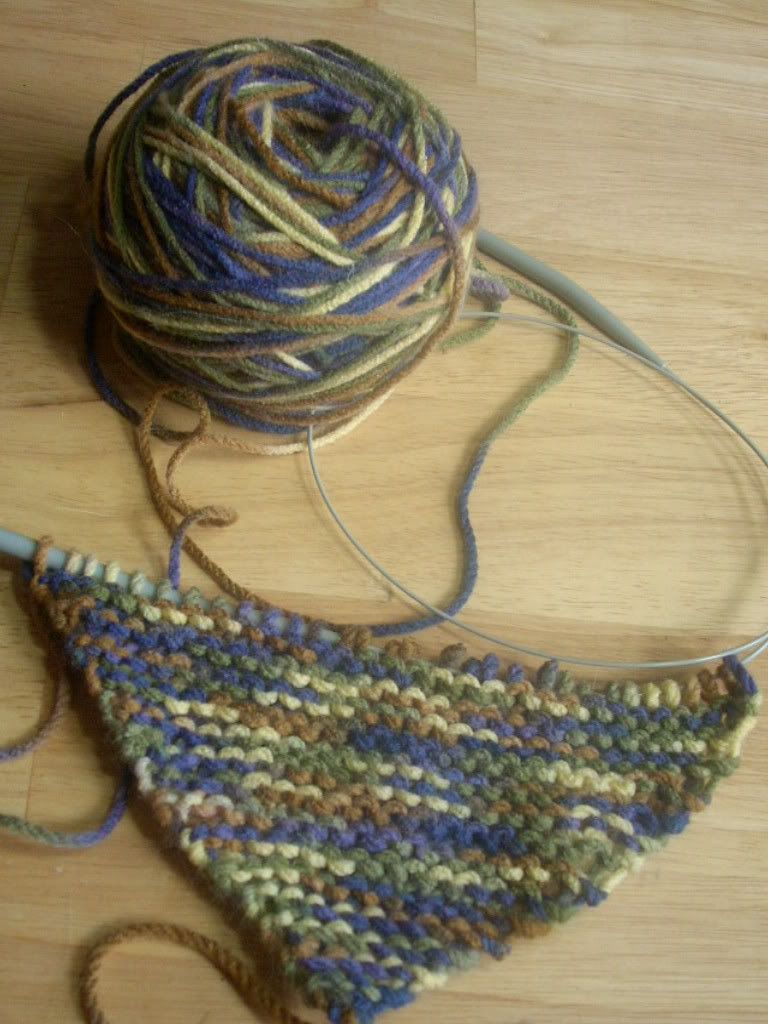 Learn Something New


When all else fails, learn so
m
ething new. I think that'll be my new motto.

A couple of months ago, I bought some yarn which I was planning to use for a scarf. So, I decided it was time to wind it to pre
pare for starting this project. (Do I need to start another one? I'm sure you know the answer to that.) Ever since Alison had shown me the center-pull ball she made, I wanted to try it, too. A quick Google brought me to these instructions, which are very clear and easy to follow. In no time, I had a center-pull ball of yarn. It's nice and solid, and I like that the bottom is flat so that the ball doesn't roll around.

This morning, I started the Multi-directional Scarf by Karen Baumer. It starts with a cast-on of one stitch, increasing one stitch each row until one side of the triangle measures about 5 inches (or to whatever width you want the scarf). So far, so good. The directions suggest using the recommended size needles for the yarn chosen to create a more solid look. That would be size 9 or 10 for this Avalon yarn. Or go up one size for a looser look. I decided to go with the inexpensive, plastic size 10 circular needles I have on hand. Not exactly luxe, but I should still end up with a nice scarf.