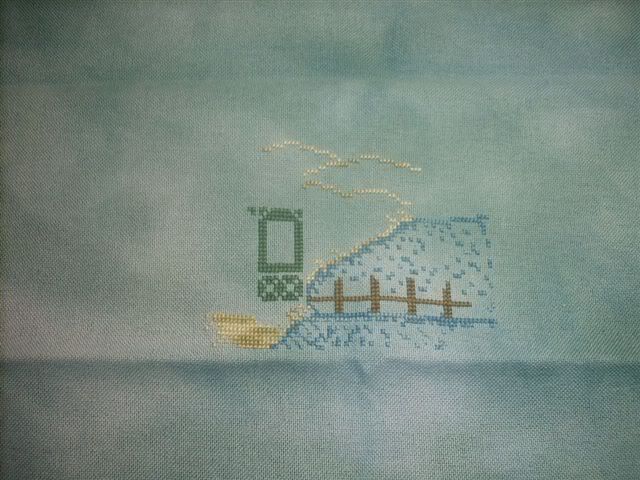 The joys of not worki
ng for a week and a half...I read a book, started another and made progress on new projects.


By the Sea


First up -- Seaside Cottage by Elizabeth's Designs. I decided to substitute fabric from my stash for the 32 ct. Confederate Gray called for. I chose an
overdyed from the now defunct Blended Needle -- 32 ct. Storm Cloud. I think it work
s well for a sky and water effect.

This is working up quite fast and I expect to have it done in time since it is a gift. My manager is getting married at the end of August and is having the wedding at a cottage on Cape Cod. I'm planning on adding their names, the date and Cape Cod, Massachusetts, to make this piece a nontraditional wedding sampler. I'm either going to have it framed or mounted in a Sudberry or Old Colonial box.



The Dark Side of the Moon

I also started Lunar Harvest. This is on 32 ct. Navy linen. I'm glad that the moon is mostly in DMC 3047, light yellow-beige, rather than grays. It's more pleasant to look at. Stitching on dark fabric is always a challenge, but the weave on this linen is a bit loos
e which makes is easier to see the holes. My eyes are also getting adjusted so I'm not minding it too much. Again, this is working up quickly, and is a gift for my niece. I don't normally stitch gifts but I seem to be in a giving mood right now. ;-)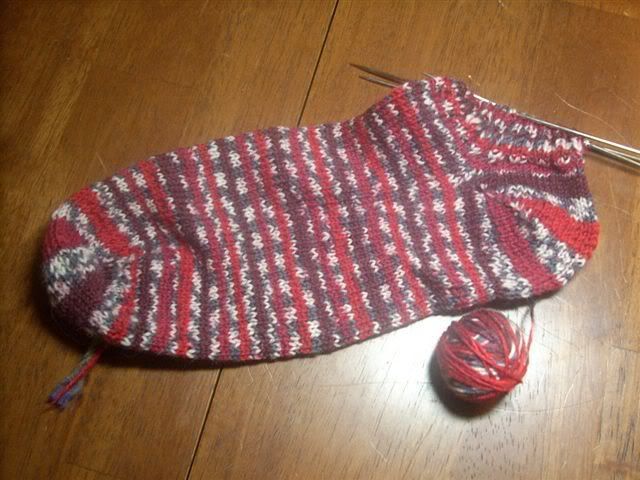 What's afoot
Socks are coming along nicely. I had turned the heel then realized I dropped a stitch. Annoying, but it didn't take long to rip out the heel, pick up the stitch and re-turn the heel.

The yarn-stealing cats managed to get into by bag at one point and lost one of the dpns. (Much to my dismay, I'm sure I'll find it one day when I step on the pointy end). I'm now working the sock with 4 needles instead of 5. It doesn't seem to be making a difference, but it is easier to knit with 5 needles.

Looking at this, I'm wondering if I've started the cuff ribbing too soon. I should look at one of my reference books before I go any further.

Book Bag
Indulged myself by buying some books during vacation:

My Life in France by Julia Child
Julia Child's memoir, written with her grand nephew, about how she began her career as a French cook, author and TV cooking show host. I enjoyed reading about her journey and love of French cooking. I'd like to get Mastering the Art of French Cooking and try some recipes.

The Last Templar by Raymond Khoury
Just started this and it grabbed me right away. Great opening: four horseman dressed as Knights Templar ride down Fifth Avenue to the Metropolitan Museum of Art for the gala opening of a Vatican Treasures exhibit to wreak havoc and steal an ancient decoder device. Who hired them? What secrets will the device uncover? Can't wait to find out.

The Sign of the Cross by Chris Kuzneski
Another thriller with an ancient conspiracy theme.

Emperor (Time's Tapestry Book One) by Stephen Baxter
Seems to have elements I enjoy -- alternative history, generational saga, Roman and British empires. Only book one, so I'll have to see if it's a series I'll continue.

The Knitting Answer Book by Margaret Radcliffe
Picked this up in Michael's. It's always good to have a reference guide handy. It helped me figure out how to fix the dropped stitch in my sock.

Wish I had several more weeks to indulge my stitching, knitting and reading, but it's back to reality tomorrow.