Non-stitchers who know I cross stitch have occasionally said, "You must sew really well." Um, no. I can sew a button, fix a hem (notwithstanding that a hem on a pair of pants is currently pinned) and even shorten the sleeves on my suit jackets if I put my mind to it. But sewing really isn't my thing.

That's why almost none of the pieces I stitch are ever totally finished -- no pillows, no needlebooks, not even framing, nada. Occasionally there have been exceptions.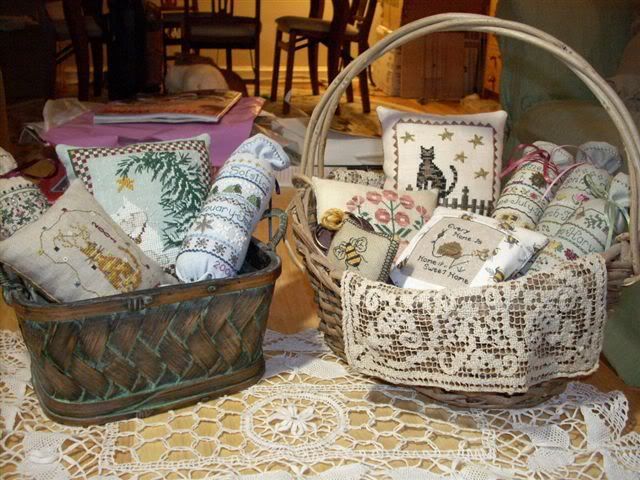 For the most part, though, I stitch a design for the pure enjoy
ment of stitching. But when I'm done, I still want to display it. So a few years ago, I began hanging my finished projects from bookshelves. I got the idea from my friend Theresa. I usually have the most-recent finish out with a few favorites. Depending on the season, I might hang related projects, like Santas at Christmas.
The rest of the finished pieces are stored in a pillow case in a drawer. Every once in a while, though, I'll look through what I have and am reminded of a piece or two I really liked. That's what inspired me to put together this display of houses:

There are many stitchers who do wonderful finishing. Like this stitcher. I was struck by the number of things she's finished and how lovely they all are. There's also a link on her site to a group called Focus on Finishing that has lots of inspiration and links to tutorials. One category that caught my eye was fabric book covers. I like that idea and would consider making one. Sewing may not be my thing, but I can be crafty now and then. Most of the links are to French sites, so I may have to enlist my French-speaking friends to translate for me. Maybe I can offer to make a book cover for them.