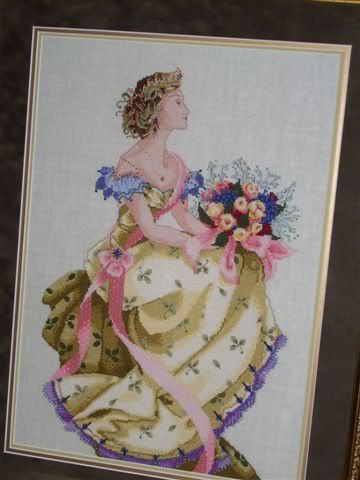 I stitched this a few years ago for my sister Judy. It wasn't for any special reason or occasion. I just wanted to make something for her. But there were a couple of conditions: I wouldn't commit to a due date and she couldn't nag me about finishing. She agreed and we went through my charts. This was in May, 2000.
Here are the stats:
Fabric: 32 ct French Lace Linen
Fiber: DMC and Kreinek metallics
Embellishments: Mill Hill Beads

I decided to stitch the face, neck, shoulders and arms over one to make the skin appear smoother. This was time-consuming and tedious, because I had to make four over-one stitches for every over-two stitch. But it was worth the effort.

I finally finished all the cross-stitching by April, 2003. There definitely were stretches when I didn't work on it. But eventually, the Queen summoned me and commanded me to complete her.

Since I was planning to visit in June, I made sure to have all the beading done, so I could bring it with me, even though it wasn't yet framed.
Judy was delighted with the gift. She wasn't a stitcher, but she admired and appreciated the work that went into it.

Sadly, a month later, she passed away.

During that month, I had talked to her about framing the piece, that perhaps on my next visit we could take it to a shop in Rochester, New York. Her husband, who is a carpenter and restores Victorian homes for a local historical museum, insisted that he would be able to frame it, why spend the money, blah, blah, blah.


Needless to say, with Judy's death and her 10-year old daughter, Angela, to worry about, framing was the furtherest thing from my mind. A couple of months later when visiting my niece, I noticed that Spring Queen wasn't around any more. Even though it wasn't framed, Judy had it out, draped over a picture on her dresser. Then one day, I saw it on a chair in the dining room. Her husband had crafted a wooden frame (like stretcher bars, but with scrap wood) and nailed the linen to the frame.

I was shocked and horrified. It was such a difficult time -- so many emotions, so much grief -- that to see what had happened to Spring Queen was like a kick in the gut. Because of things that were happening at the time, I didn't speak to him about it. On my next visit, I found that he had crammed the piece into a standard-sized cherry frame. She looked like she was confined in a cell. The inside edge of the frame was practically right against her skirt, and the bottom of the dress was covered by the part of the frame.

Skip ahead to Christmas 2006. My brother-in-law and niece were hosting Christmas. Since I was going with my sister, Barbara, who was driving, I decided it was now or never for me to get Spring Queen back to have her properly framed. At the end of the visit, I told my brother-in-law I wanted to enter Spring Queen in a needlework show, and asked if I could have her for a while. He readily agreed.

As soon as I could, I brought the piece, which was still nailed into the wooden str
etcher bars, to Don at Where Victoria's Angels Stitch. He was a bit concerned that the nails may have torn some threads in the linen, but assured me he would do his best to salvage it. By my next visit, he had successfully removed the nails, and Tawny had kindly cleaned the linen, which had begun t
o discolor from exposure to the wood. Don had also picked out mats and a frame. They were absolutely perfect. The main mat is a greenish-brown suede, the middle one is gold and the inner one is a light yellow-green.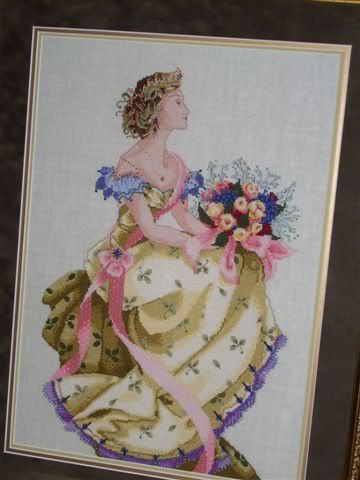 When I arrived at the shop today, Don had me close my eyes as he put Spring Queen up on the counter. When I opened them, I was overjoyed with the results. This is how she is supposed to look!

I am planning on entering her in the Montpelier Needle Art Show in July. After that, I'll return her to Angela. She's fourteen now and more interested in boys than anything. But when I told her I was going to take the piece for a while, she made sure I was going to return it. I hope that it will become a
cherished memento for her, and that she'll always want to have it around.